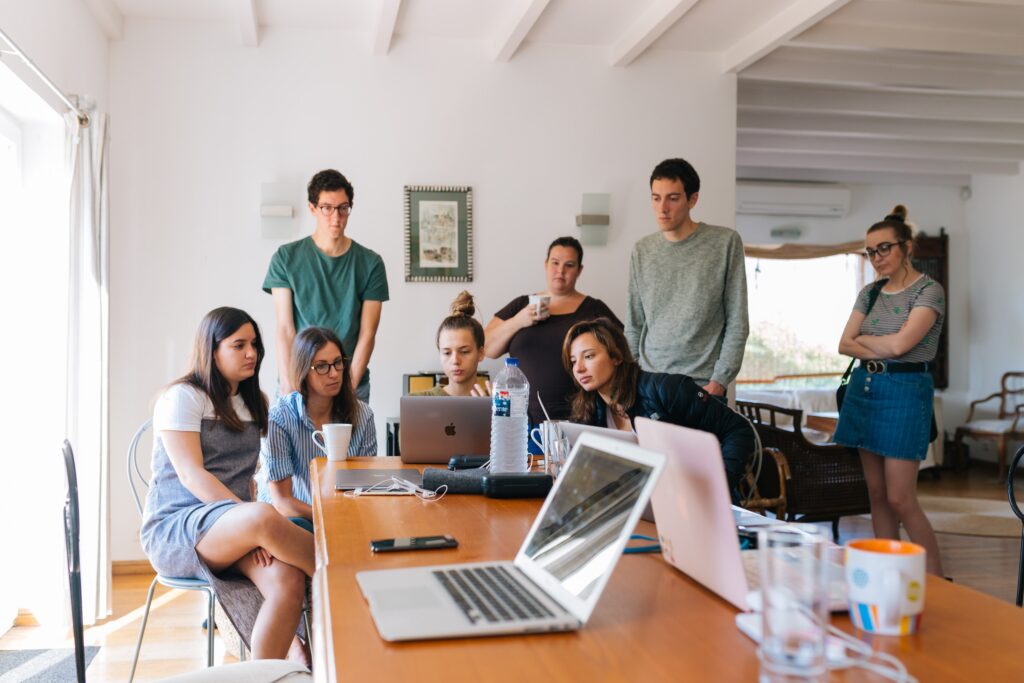 If you want to hire and retain the best IT talents…
Whether you're a CTO, CEO, or Talent Acquisition manager, it makes sense to collaborate with Talently, Denmark's only talent agency for top IT talents. We focus on matching, onboarding, and retention.
It's about creating a successful hire and retaining the talent.
While it's challenging to find and attract the best IT talents, the real challenge often comes after the hire. One of the significant challenges is that this group of employees tends to change jobs frequently, often because they can.
Therefore, it's essential to ensure that the hire is successful from the start and that the talent can be retained as a valuable employee for a long time. Quick job changes hinder learning and development for the talent and can be costly and cumbersome for the company.
How Talently Works with Talents
Talently's focus is to strengthen the professional and personal development of IT talents. We do this through individual and targeted career coaching and mentoring. We believe that development requires long-term thinking. Therefore, staying in the job is a major focus in all our one-on-one conversations with talents. A job change should occur based on a real opportunity for further development and when it makes sense in terms of the talent's long-term dreams and goals. It should never be based on fleeting emotions and frustrations that may, in reality, be hidden development opportunities waiting to be exploited.
Focus on Retention
Talently does not try to keep talents in their current roles at all costs but actively tries to ensure that talents do not leave a role too early and hop from job to job. It is never Talently that initiates a job change, but always the talent. However, we challenge the talent's desire to ensure that it genuinely stems from a need for development that aligns with the agreed-upon goals.
Would you like to meet the talents?
A talent from Talently is always screened, clarified, tested, and participates in regular one-on-one conversations in a structured coaching/mentoring program. Therefore, you will find that a talent we present to you will match your company better than the applications you normally receive. We will find the right match for you if your company aligns with the talent's next challenge. However, you can ensure the highest level of accuracy if we know about your tech stack and the profiles you are primarily interested in. So, please feel free to contact us for an entirely non-binding conversation on how we can collaborate to match, onboard, and retain Denmark's top IT talents.
Send an email to Henrik Christensen to initiate a dialogue or learn more about the talent process here.
Note… Talently is not a consulting firm, and we do not work with freelancers. Our focus is on top IT talents seeking permanent employment in progressive companies where high-level IT development is a central activity. We work at all levels, from student assistants to CTOs.
An employment in collaboration with Talently is a solution, not a hire!
Talently operates on a 100% no-cure, no-pay basis. All initial dialogues, meetings, talent presentations, etc., are always free of charge and entirely non-binding. When entering into an employment agreement with a presented talent, a success fee is paid. The success fee can be divided into, for example, 12 monthly installments, which only need to be paid if the talent is hired. If the employment ends, for any reason, the payment also ends.
Regardless of whether the success fee is paid in one lump sum or in installments, Talently is there every step of the way after the hire. We assist with onboarding to the extent you desire. We continue our strong coaching/mentoring program with the talent after the hire. The focus is on success in the new role, and we act as a neutral third party that can help resolve misunderstandings and uncertainties. This contributes to retention.
In addition to Talently's active work with the talent, we also offer to create a coaching/mentoring program for up to three of the company's Talent Acquisition managers and/or hiring managers. This service is free of charge.
Read more about why collaborating with a professional talent agency is a good idea… (danish only!)
Talently is Denmark's only talent agency for top IT talents.
Talently represents the career interests of top IT talents. All talents are among the very best in their field, and they are all clear about their career goals and dreams. When a talent is ready for a job change, Talently helps find the right company and the right job. We call it "the best next job."
Talently's program is 100% free for the talents. When a talent is ready for a job change, Talently takes on the responsibility of finding the right next role based on a deep understanding of the talent, which has been built over time. When Talently assists with a job change during the program, a fee is settled with the hiring company on a pure no-cure, no-pay basis. Talently continues the program with the talent, now focusing on success in the new role. This ensures long-term retention.
Hire now?
See the overview of IT-talents open to new opportunities right now!
Hvis du vil læse denne tekst på dansk, så finder du den her…