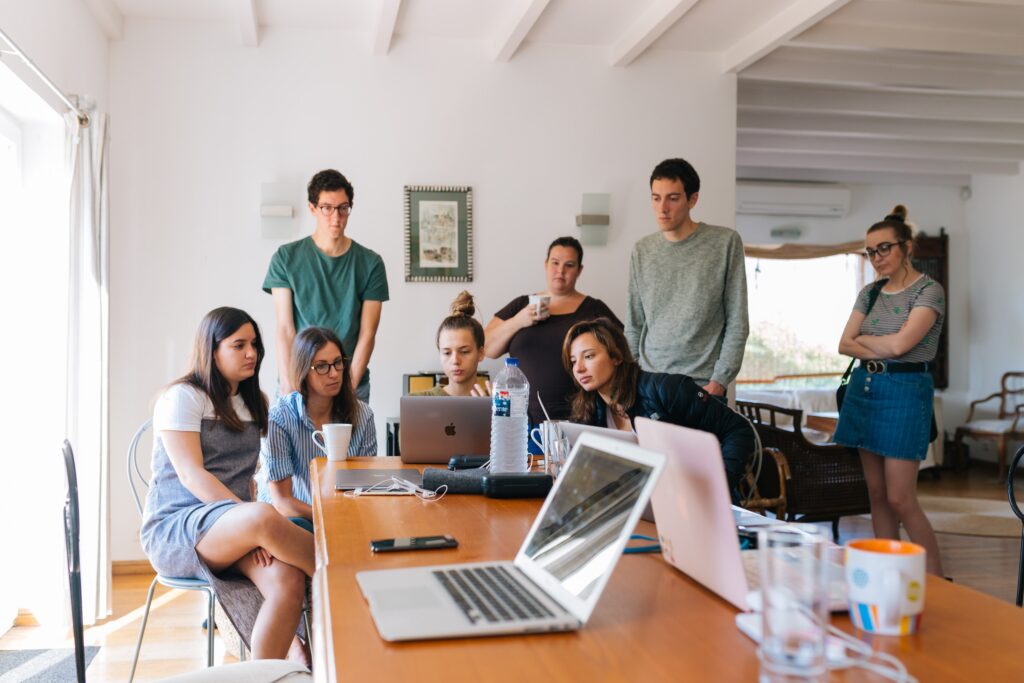 A talent agency for IT talents
Talently is a talent agency for IT talents in Denmark. Talently is an integral part of MatchMaker, which is one of Denmark's most experienced recruitment companies with more than 30 years of experience. Talently's focus is to strengthen the IT talents' professional and personal development through individual and targeted career coaching and mentoring.
Through a thorough clarification of competencies, ambitions, goals, and dreams and supported by regular one-on-one conversations, Talently works purposefully to ensure that the individual talent achieves exactly the professionalism needed to fulfill the dreams in the long term. Talently does not retain talent in its current role at any cost, but actively tries to ensure that the talent does not prematurely leave a role and jump from job to job. It is never Talently that initiates a possible job change, but rather always the talent, which in turn is challenged on the desire to ensure that it is really based on a need for development that points towards the agreed goals.
Talently's services are 100% free for the talents. When a talent is ready for a job change, Talently takes it upon itself to find the right next role based on the deep knowledge of the talent that has been built up over time. When Talently contributes to a job change during the process, a fee is settled with the hiring company on a pure no-cure no-pay basis. Talently continues the process with the talent and now focuses on success in the new role.
If you want to hire talent…
Whether you are a CTO, CEO or Talent Acquistion Manager, it can make sense to work with Talently. When you need to hire talent, Talently is a good supplement to your current IT recruitment. Put bluntly, Talently is the intelligent supplement to your mailbox for unsolicited applications.
Unsolicited applications…
Do you have a link on your company's career page where potential candidates can send their application and resume unsolicited? Then you have probably also experienced that not all these inquiries are equally relevant. An "unsolicited" application via Talently on behalf of a talent has been carefully evaluated and thought out and will most likely be relevant.
Talently is Denmark's only talent agency for top IT talents
Talently takes care of the career interests of top IT talents. All talents are among the very best in their field and they are all clear in relation to career goals and life dreams. When a talent is ready for a job change, Talently helps find the right company and the right job. What we call "the best next job".
Do you want to be introduced to the talents?
A talent from Talently is clarified, tested, and participates in regular one-on-one interviews in a structured mentoring process. Talently builds on over 30 years of experience in IT recruitment. You will therefore find that a talent that we present will match your company significantly better than the unsolicited applications you normally receive. We'll find you if your business fits the talent's next challenge. You can ensure the greatest possible accuracy yourself if we know a little about your tech stack and about the profiles that you are primarily interested in. Therefore, please contact us for a completely non-binding dialogue on how we can collaborate on Denmark's best IT talents.
Send an email to Henrik Christensen for the start of dialogue or read more about the process for the talents here.
Note… Talently is not a consultancy and we do not work with freelancers. The focus is on top IT talents who want permanent employment in progressive companies, where IT development at a high professional level is a central activity. We work at all levels – from student assistant to CTO.
Talently works 100% no-cure no-pay based. All initial dialogues, meetings, talent presentations etc. are always free of charge and completely non-binding. When entering into an employment agreement with a presented talent, a success fee is paid.
Hvis du vil læse denne tekst på dansk, så finder du den her…